The next Gadabout Gaddis Cup Award will be presented in September 2021
Download the GGCA nomination form here
The Gadabout Gaddis Cup Award is presented bi-annually in the spirit of the "Flying Fisherman" to a Maine individual or organization (past or present) who contributes significantly to the well-being of Maine's aviation community. The award luncheon takes place at North Country Rivers Patrick's Restaurant located at the Gadabout Gaddis Airport in Bingham, Maine on the last Sunday of September. Nominated by their peers the GGCA is sponsored by the Maine Aeronautics Association.
2019 GGCA presented to Timothy Hodgkins of Lucky Landing
Seaplane Base, Glenburn! Tim is the owner and founder of KT Aviation at Luckey Landing Seaplane Base on Pushaw Pond.
Tim worked for Bar Harbor Airlines, Folsom's Flying Service, and was chief pilot for Penobscot Island Air. Tim and his late wife Kathy ran Central Maine Flying Service in Old Town before they founded KT Aviation in the mid-80's with Jimmy Strang, now of Katahdin Air Services. In 1988 Tim and Kathy acquired the seaplane base on Pushaw Pond. While still working their day jobs (commercial airline pilots) they built the business into a formidable facility offering floatplane instructing, tailwheel training, and charter services.
Tim plays a key role in the Maine aviation landscape and exemplifies the spirit of the man this award is named for… Gadabout 'Roscoe Vernon' Gaddis" the star of the "The "Flying Fisherman" a popular weekly radio and then television series in the 50' and 60's. Roscoe Vernon built the Gadabout Gaddis airstrip in Bingham from where the series was based.
2017 Gadabout Gaddis Cup Award presented to Keith Strange of Lincoln!


2015 Gadabout Gaddis Cup Award —  Lisa Reece
2013 Gadabout Gaddis Cup Award — Max Folsom of Greenville!
2012 Gadabout Gaddis Cup Award–FOBA
Bingham, Maine–September 29, 2012
The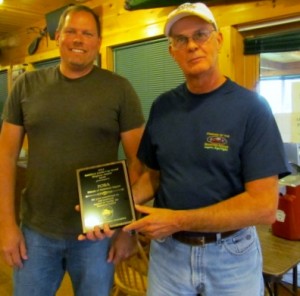 2012 Gadabout Gaddis Cup was awarded to the Friends of Biddeford Airport (FOBA) on September 30.
Founding member and past chairman of FOBA Lannie McGahey and current chairman and Biddeford airport manager Frank McCutcheon accepted this historic award on behalf of the organization. FOBA was formed in response to a citizen referendum to close the Biddeford Airport. The group was overwhelmingly successful in defeating this 2008 vote. Due to the efforts of FOBA along with EAA 1210 chapter which is based at the airport the group raised awareness of the importance of the airport by going door to door and organizing an open house. The Biddeford Open House is held every other year, and the 2013 event is in August. Special thanks was given to Jerry Bernier founding member and past chairman of FOBA for his tireless efforts in getting the group off the ground and for helping "save" this important part of the Biddeford community.
2011 Gadabout Gaddis Cup Award Winner — Phil Simpson of Wiscasset. Simpson, a former co-pilot for the state, was the assistant director of aviation for Maine from 1972 until his retirement in 1996.